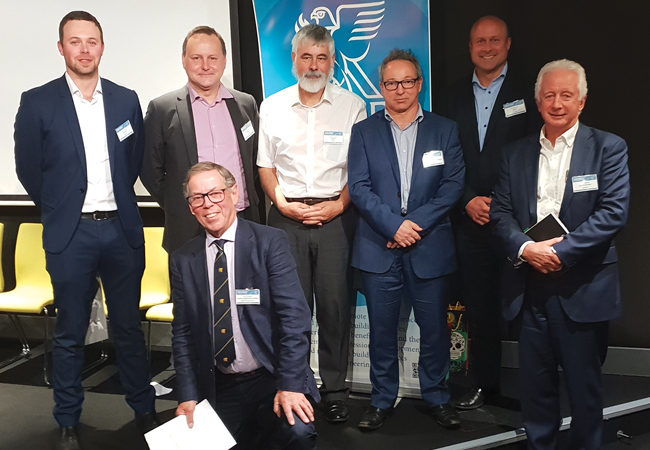 Series speakers (from left): Wayne Gass, senior security consultant, Jacobs; Paul Dearlove, technical director, IBMS; Dr Hywel Davies, technical director, CIBSE; Jon Clarke, associate director and controls group manager, Digital Buildings, NDY; Brett Naylor, group manager – digital delivery, BECA; Chris Wallbank, head of energy and sustainability services, JLL Australia; and (front) Andrew Crabtree, CIBSE WA chair
CIBSE Australia and New Zealand (ANZ) Region's seminar series, titled 'Anatomy of a smart building', in October, highlighted the many issues and challenges that building services engineers will face in the near future.
According to the World Economic Forum, engineering and construction have been slow to embrace technological opportunities. Rapidly changing expectations of building owners and tenants, however, mean the anatomy of a smart building will look very different from that of its traditional counterpart.
Jonathan Clarke, associate director, Norman Disney and Young, said: 'Why approach smart buildings in the same way as we have been doing automation for the past 15 years?'
According to seminar speakers, the industry can look forward to disruption. Companies' building management and control systems may have a limited future if they continue to focus on traditional architecture, with 'software as a service' and the Internet of Things solutions driven by organisations not normally associated with building services.
People working in controls will need to find new ways of doing things, while a few in the installation, maintenance and diagnostics space can expect to be replaced by artificial intelligence and 'plug and play' equipment.
The hard part will be guessing how this disruption will play out, presenters stressed. Sensor technology, for example, has come on in leaps and bounds, and it is now possible to measure all sorts of parameters – from occupancy and temperature through to CO₂ and Volatile organic compounds levels – throughout an occupied space. Who owns the data and has access to it, and how it's manipulated, need consideration.
Some new-generation sensors are coming from suppliers that have no track record. There may be concern about whether they will be in business in five or 10 years' time, and what this could mean for a building owner who commits to 5,000 sensors if the supplier folds.
The motivation for adopting new technologies and approaches is often the fear of being left behind, and the desire to do new and exciting things with our buildings. But as Matthew Clifford, head of energy and sustainability services, JLL, said: 'We need to avoid the situation where we create solutions looking for problems.' Speakers also pointed to the need for services engineers to adapt to the problems associated with cyber security.
For more details about the ANZ seminar series visit the ANZ website.