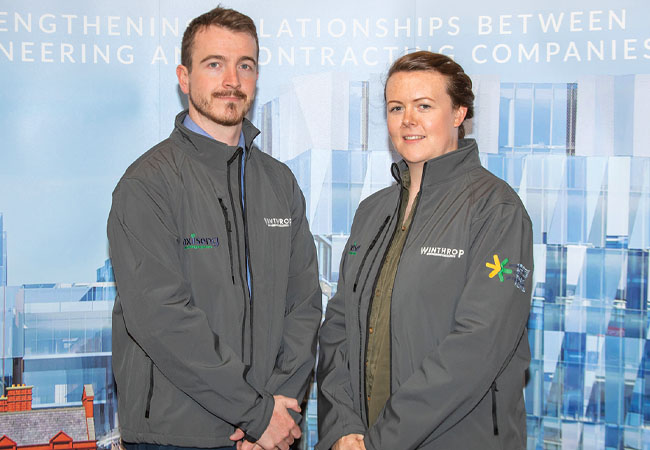 Tom Egan, of Winthrop Engineering & Contracting, and Kerry Taylor of Axiseng
CIBSE Ireland is celebrating the success of its inaugural Workshare Exchange Programme, which was devised to build and strengthen relationships between engineering and contracting companies in the building services sector.
The main objective of the programme is to give participants insight into each other's working practices.
The first programme ran from May to July 2019, with Kerry Taylor, from Axiseng, and Tom Egan, from Winthrop Engineering & Contracting, taking part. They carried out their normal duties, but then spent one day a week at each other's office, effectively doing the other's work.
Although the main focus was on the engagement between Taylor and Egan, it quickly became apparent that the role of their respective mentors – Richard Vaughan, at Axiseng, and Thomas Sheridan at Winthrop – was equally important. Their involvement meant Taylor and Egan were treated as almost direct employees by the host companies.
In reviewing their experiences, the pair highlighted many of the challenges that had been anticipated, but also the learning outcomes from issues and situations that had not been foreseen.
Taylor said 'I found the exchange to be very beneficial to my professional development – a knowledge enhancer and confidence builder.'
Egan noted the value he gained from seeing how design documents are put together through the different draft stages before tender. 'The most important outcome is that I gained an  understanding of the various design tools and how designs are produced,' he said
CIBSE Ireland is delighted to announce that the next programme has now been agreed with the new participants being formally announced shortly. More details to follow. If you would like to get involved then please follow this link to the workshare program website – www.cibseireland.org/cibse-ireland-workshare-exchange-program-expression-of-interest-form/