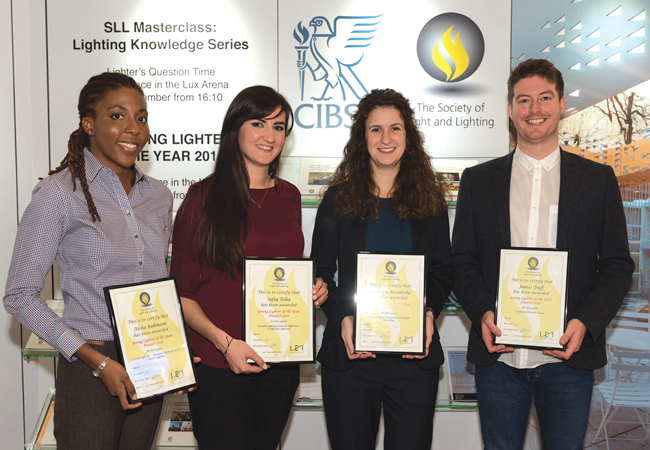 Last year's winner Sofia Tolia (second from left) with runners-up (left to right): Aisha Robinson, Eleonora Brembilla and James Duff
Entries are open for the 2017 Society of Light and Lighting (SLL) Young Lighter of the Year Competition, which is now in its 23rd year.
The contest offers a unique platform to young lighters and is open to all. It allows young lighters to present their knowledge and research on a lighting subject, hone their presentation skills, and raise their profile within the industry.
Shortlisted finalists will give a 15-minute presentation to a LuxLive audience in November 2017, and all finalists will receive a cash prize, plus a year's free membership of SLL.
Watch the 2016 shortlisted video presentations – and read last year's winning paper, Variable lighting levels for highways, by Sofia Tolia.
Entrants should be aged 30 or under on the closing date of 8 May. Enter now at the CIBSE SLL website.