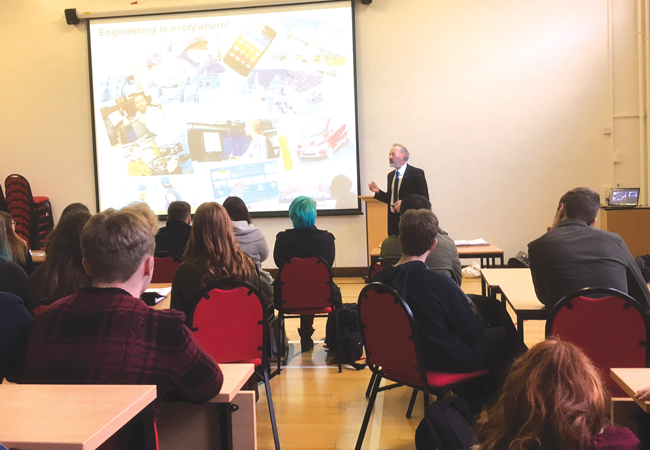 Mildenhall College Academy pupils listen to the presentation
Around 180 students from the Mildenhall College Academy sixth form, in Suffolk, were treated, in January, to a presentation by CIBSE member Mike Malina, from Energy Solutions Associates.
The presentation – organised by CIBSE member Eddy Warren, the sixth form's head of English Dr Kathy Warren and pastoral lead Carol Cooper – aimed to give the youngsters an insight into building services engineering.
Malina started with a general overview of all aspects of engineering, before looking more specifically at M&E in building services engineering, where his experience lies.
After the first presentation to the college in 2015, this year's event was attended by some of the senior teaching staff.
These visits aim to shine a light on the opportunities available to students in the industry, and to raise awareness of building services engineering as a career.
A number of questions were posed and the presenters trust that the involvement of the teaching staff will help prompt further questions across the year.
By raising awareness of the industry and the job opportunities it offers, Malina and Warren hope some of the college's students may go on to choose engineering as their future career.
To find out more about the presentation, contact Eddy Warren on eddy.warren@supaflex.com