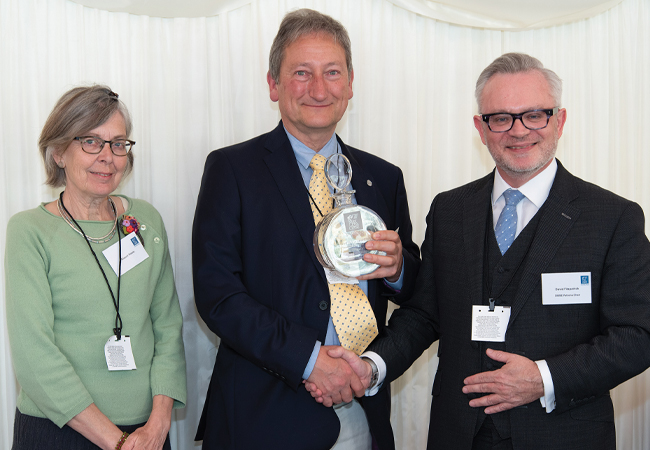 Professor Dwyer receiving his award from Lord Howie's daughter Alisoun and Patrons chair David Fitzpatrick
Professor Tim Dwyer has become the first-ever recipient of the Lord Howie Award presented by the Society of CIBSE Patrons.
The award seeks to recognise the contribution made by an individual to the building services industry, whose efforts do not always receive the recognition they deserve.
Named after Lord Howie of Troon, an engineer, journalist and parliamentarian, who was honorary president of the Patrons, the award was set up to commemorate his long support of the society. The award was presented by Lord Howie's daughter Alisoun at the Patrons Lunch held at the House of Lords in April.
In his citation, Mr Fitzpatrick described Prof Dwyer as a 'well-known and extremely popular figure in our community who has never sought acclaim or profile – the ultimate 'unsung hero''.
He added that Prof Dwyer had worked diligently behind the scenes (and occasionally in front of them) 'for the best part of 40 years on many projects that sit at the heart of CIBSE and all that it stands for'.
Prof Dwyer said he was 'overwhelmed' to be the first recipient. 'This is a glorious industry, which has given me so many fantastic experiences over the years.'