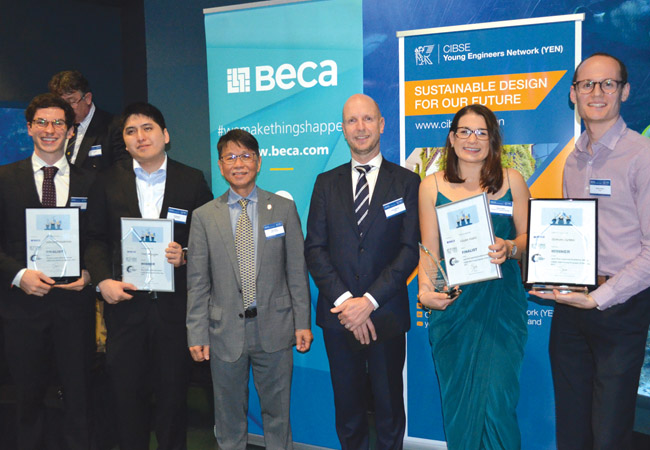 From left: George Fitzpatrick; Thai Nguyen; CIBSE President Peter Y Wong; James MacNeil, from Beca; Nicola Viselli and Simon Green
Mechanical engineering (Hons) student from UNSW Thai Nguyen, and graduate building services engineer from Arup Simon Green, won the top prizes at the CIBSE ANZ Young Engineers Awards.
Nguyen won the Mark Griffin Memorial Award – Student of the Year, with an outstanding brief for a sustainable retrofit of an ex-office building. The award called for entries from engineering students , studying BSc, BEng or MEng at 17 universities across Australia and New Zealand. Finalist George Fitzpatrick, civil engineering and architectural design student at Monash University, was also recognised for his submission.
Simon Green claimed The Jack Pirie Inspiring Excellence Award – Young Engineer of the Year. Judges said his entry demonstrated the largest contribution to building services in his short career. Sian Willmott, CIBSE Vic Young Engineer Network chair and judging panelist, said: 'He went beyond his day-to-day job to learn about interdisciplinary design and, consequently, make improved project decisions.' Finalist Nicola Viselli, sustainability consultant at Northrop in Sydney, was commended for her nomination and contribution to building services.
All finalists received a certificate and trophy, with the winners awarded a $1,000 prize, courtesy of award sponsor Beca.
The 2018 competition will open for entries in November 2017. Visit www.cibse.org/cibse-anz-young-engineersawards for details.