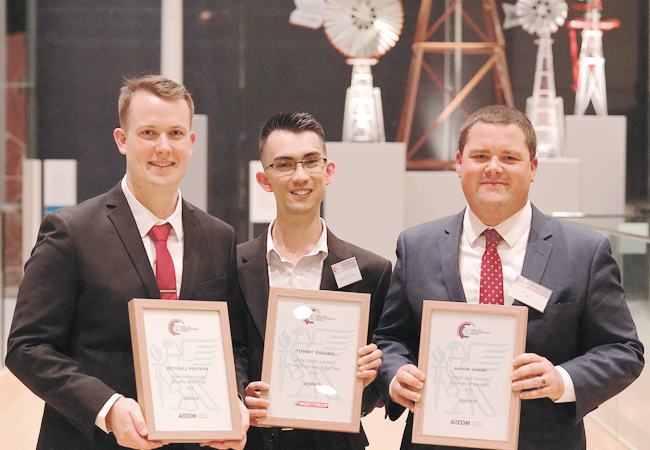 Nine students and young engineer finalists from across Australia and New Zealand gathered for the CIBSE Australia and New Zealand (ANZ) Young Engineers Awards, in September.
The awards, held at the Melbourne Museum, celebrated the rising talent across the region and were attended by more than 80 building services industry professionals.
Entries were received from 12 consultancies and three universities across Victoria, New South Wales, South Australia, Queensland, Christchurch and Auckland.
The young engineers and graduates were judged on their contribution to the industry, and their video submissions on what they believe to be the most novel, scalable and implementable ideas which could be applied to building services to reduce greenhouse gas emissions.
The Student of the Year award was presented to Mitchell Peatman, studying for a Bachelor of Engineering (Electrical) at University of Wollongong, and Northrop Consulting Engineers.
In his submission, Mitchell spoke of our responsibility to reduce greenhouse gas emissions holistically.
The CIBSE ANZ Graduate of the Year was named as Aaron Hoare, sustainability consultant at WSP. Aaron demonstrated strong service to the industry, displayed enthusiasm for his work and presented clear bottom up and top down implementable sustainable ideas.
The Young Engineer of the Year title was awarded to Tommy Sailing, electrical engineer at Northrop Consulting Engineers. The judges felt Tommy demonstrated original thought, presenting a solution over the life of a building.
In line with the sustainability theme, the winners each received a bamboo trophy and framed certificate, as well as AUS$1,000, courtesy of sponsors AECOM, Northrop Consulting Engineers and VOS Group.
The Young Engineers Awards are vital in helping CIBSE engage with students and young building services engineers seeking to make an impact in the industry and encourages them to become future leaders.
CIBSE President, Lynne Jack, speaking at the event, implored young engineers in the region to take advantage of all the opportunities that CIBSE offers, and welcomed a dialogue with members on how CIBSE supports its regions.
Thanks go to event partners Acor, Arup, Aurecon, Conex Banninger, Constructive Recruitment, Daikin, Norman Disney & Young and Wood & Grieve Engineers and the award sponsors.
● Visit www.cibse.org/cibse-anz-young-engineers-awards/2019-winners