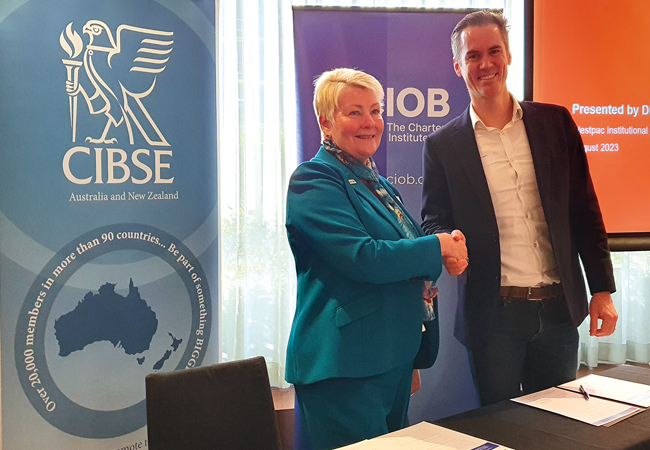 CIBSE's Australia and New Zealand (ANZ) Region strengthened its ties with the construction industry by signing a memorandum of understanding with the Chartered Institute of Building (CIOB) in August.
A visit to the region of CIOB chief executive Caroline Gumble was an ideal opportunity to reinforce the institutions' commitment to promoting awareness of key issues in the built environment locally, advancing knowledge of best practice among members, and working together to do so where possible. The agreement was signed at the CIOB Property Economic Update breakfast in Sydney.
CIBSE ANZ chair Phil Senn feels strongly about taking a collaborative approach to tackle reform and promote competence.
'The building sector requires strong collaboration between design and construction professionals to deliver sustainable, scalable solutions for the built environment,' he said. 'By formalising a partnership between CIOB and CIBSE ANZ, we will improve access to shared knowledge, and work together to solve numerous challenges – the largest of which is how we transition the built environment toward net zero emissions across construction and operation, incorporating circular economy thinking.'
CIBSE ANZ is looking forward to delivering many joint events with the CIOB in the coming months and years.
● For more information on the CIBSE ANZ Region visit: www.cibse.org/get-involved/regions/australia-new-zealand