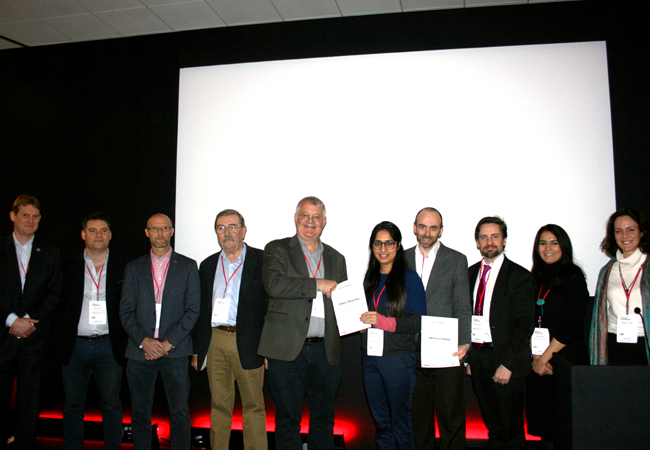 From left: Nick Hopper, Monodraught; Niall Gibson, IES; Dave Cocking, DesignBuilder; Alan Jones, EDSL; Darren Woolf, BSG chair; Shikha Bhardwaj and Herman Calleja, winners from ChapmanBDSP; and judges Darren Coppins, Rokia Raslan and Gabriela Costa
Chapman BDSP was crowned overall winner of the CIBSE Building Simulation Group prize, awarded at Build2Perform Live in November.
There were 26 entries on building simulation and modelling, with six shortlisted for live presentations at the event. The quality was exceptionally high, and the judges awarded two runner-up awards and one overall winner. Head judge Darren Coppins was impressed with the state-of-the-art modelling and simulation tools and techniques used.
ChapmanBDSP presented modelling created for the Shenzhen World Exhibition Conference Centre in China. The judges were particularly impressed by the different forms of modelling on this large project, which challenged the modellers to question methods to achieve the best outcomes. They also used simulation tools to represent graphically the results, to overcome language barriers. ChapmanBDSP's fast-paced and inspiring presentation covered a significant amount of detail, and held the audience's attention.
Shikha Bhardwaj, of ChapmanBDSP, said: 'The CIBSE BSG Award is as an amazing platform to showcase the current ways of using computer simulation tools to inform building design on numerous scales. Thank you to CIBSE BSG for organising this event and team ChapmanBDSP for all the hard work.'
The runners-up prizes were awarded to Ramboll, for its entry delivered by Santeri Siren, and Hodkinson Consultancy, for its presentation by Vasiliki Kourgiozou. The shortlisted presentations and winners' blogs are available here.