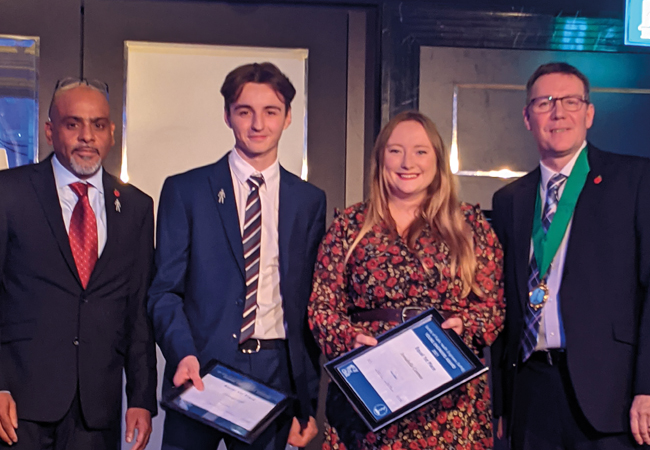 The Society of Public Health Engineers (SoPHE) was back and bigger than ever with its first in a series of live events last month – its 17th annual dinner in London.
At a larger venue, the Royal Lancaster London, new chair Peter White hosted a record 35 tables at the biggest SoPHE event to date – hopefully, a sign of better days to come after the Covid-19 pandemic.
As well as being the premier networking event for the public health engineering industry, the dinner's highlight is always the presentation of the Young Engineers award. This year, it was organised with the help of the SoPHE Plumbing Centre of Excellence (as featured in October's edition of CIBSE Journal) and took the form of a Young Engineers training day at New City College, Havering.
The aspiring engineers at the training day were involved in exhibitions and practical CPD sessions with various pipework materials, fittings and valves manufacturers. This was followed by the competition itself, with individuals completing various pipework challenges and putting their theoretical knowledge into practice.
Selecting finalists was no easy task as the standard of work was excellent, so the judges decided to make three awards. All three finalists were invited to attend the annual dinner to celebrate their successes. Congratulations to Annabella Conmee of Arup and George Fall of chapmanBDSP who were awarded joint first place, and Charlie Hill of Troup Bywaters + Anders who was third.
Following tradition, a sought-after Honorary Fellowship was awarded to Linda Dulieu for her exceptional contribution to public health engineering. During a career spanning almost 40 years, Dulieu has championed SoPHE from its inception and inspired and mentored several generations of talented young engineers.
Closing the dinner, Miguel Garcia, SoPHE Industrial Group chair, presented a donation of £1,000 from the table sponsors to the charity Village by Village, which works to introduce public health initiatives and enhance lives in villages across West Africa.
If you missed your chance to attend the annual dinner, the next SoPHE event – a technical conference at the Institute of Physics – will be on 24 March