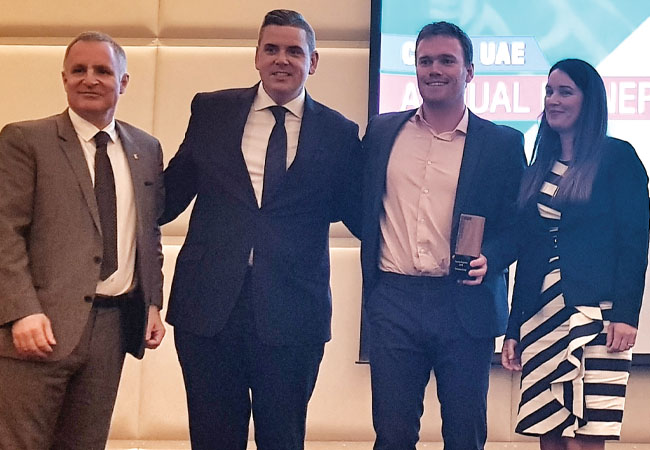 The CIBSE UAE Region held it's annual dinner and awards in February, and – for the first time – presented awards recognising engineers, consultants and contractors in the Gulf Cooperation Council (GCC) area. Thomas Craig, from Black and White Engineering, won the Young Engineer Award, while BK Gulf was Contractor of the Year and Aurecon Consultant of the Year.
Reid Donovan, chair of CIBSE UAE opened, the event, which was then presided over by journalist and broadcaster Richard Dean.
CIBSE President Stephen Lisk asked the attendees: 'Do we really want to lead change?', before adding: 'Tonight, I know that – by being in the room – you are committed to leading positive change, and I thank you for it. In addition, there are other changes we are experiencing now – the climate and our impact on it, along with geopolitical tension.'
Contractors are also having to grapple with the rapid pace of technological change and artificial intelligence. 'Professional engineering institutions, facilities management and architects working on projects must talk to each other, from design through to handover,' Lisk said.
Simon Penney, Her Majesty's Trade Commissioner for the Middle East, Afghanistan and Pakistan, joined Dean on stage for a conversation on his long-standing career in banking and finance, and the lessons he has learned from the private sector.
'In terms of trade, approximately two-thirds is export goods and one-third exported services,' said Penney. 'We recognise that services are the best way into a country, so service providers are the first in terms of projects and they typically are there right through transactions.'
Speaking about Brexit, Penney added: 'It has little impact on the region and does not have any material impact per se. With reference to its exports, the United Kingdom is a world leader in pharmaceuticals and the industry will not be affected.'