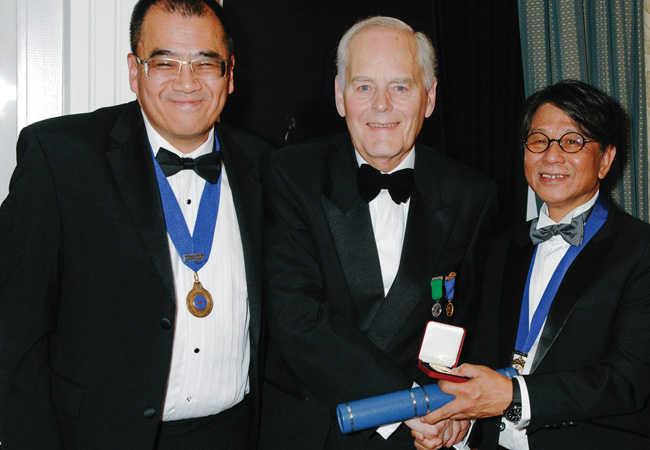 From left: Alfred Leun, Geoffrey Brundrett and CIBSE President Peter Y Wong
CIBSE members Lou Bedocs and Geoffrey Brundrett each received CIBSE Gold Medals – the Institution's highest accolade – at the President's Awards dinner in October.
Iain Carlisle gave the citation for Bedocs, highlighting his achievements in a 53-year career, as well as his extraordinary arrival in the UK. Born in Hungary in 1942, Bedocs came to the country as a refugee, after becoming stranded when helping people flee to Austria.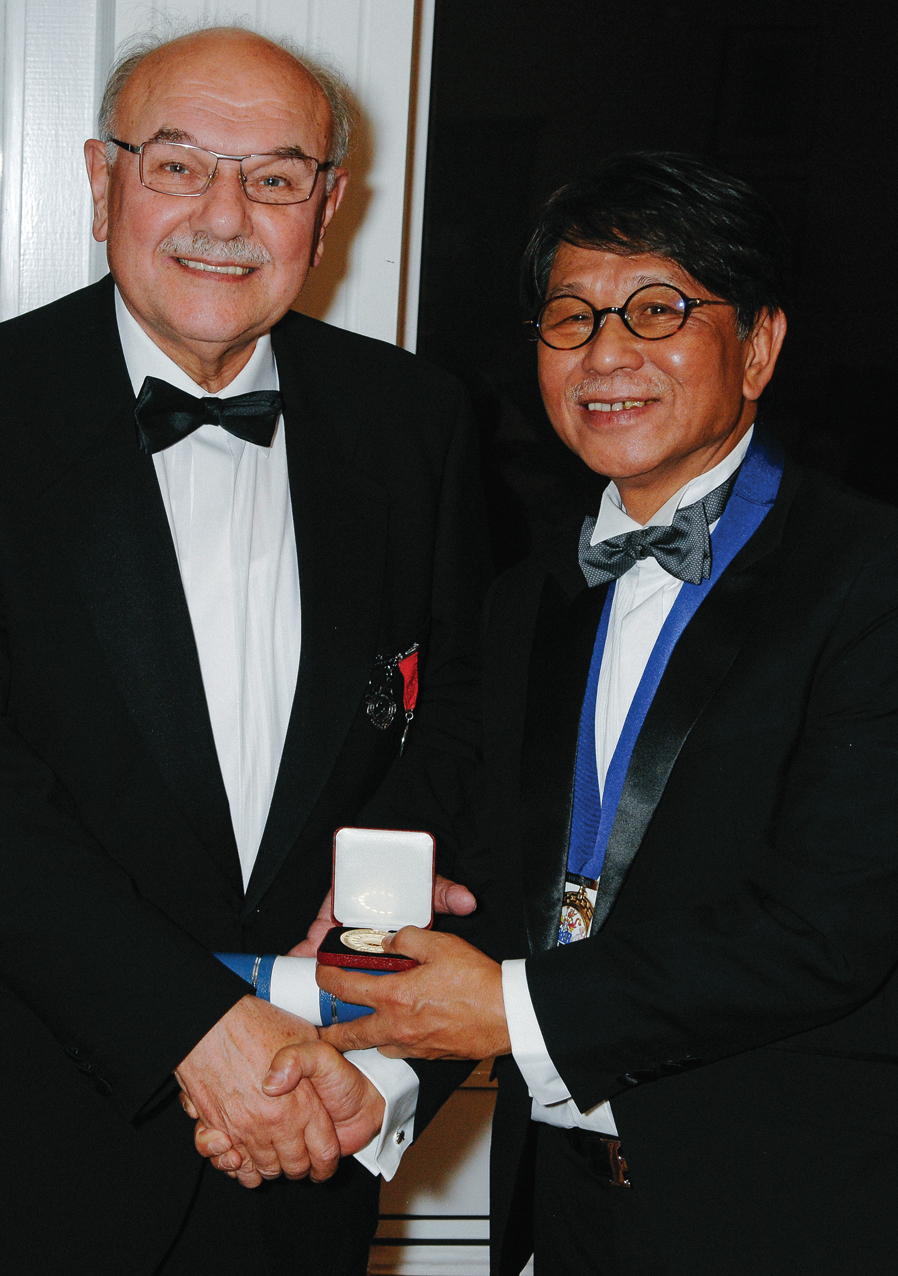 Lou Bedocs receives his medal from the President
He found employment with Smart and Brown and Ferguson after a factory visit to help refugees seek work. He began an electrical apprenticeship, and his interest in light and lighting was ignited.
After completing his training, Bedocs joined Atlas Lighting – later Thorn Lighting – where he worked for 30 years at an increasingly senior level, becoming technical director in 1991.
As well as his distinguished career, Bedocs has been CIBSE vice-president and chair of the Lighting Division, now SLL. He has also been awarded two Leon Gaster Medals and the SLL Lighting Award, and was made honorary president of the Lighting Industry Federation in 2010.
'It has been a privilege to have learned from him,' said Carlisle. 'There are few others who have contributed so much to our understanding – and the use – of light.'
In his citation for Brundrett, Alfred Leun said it was an honour to present the medal, noting Brundrett's achievements during his 55-year career. He also outlined his contribution to the industry at regional, national and international levels.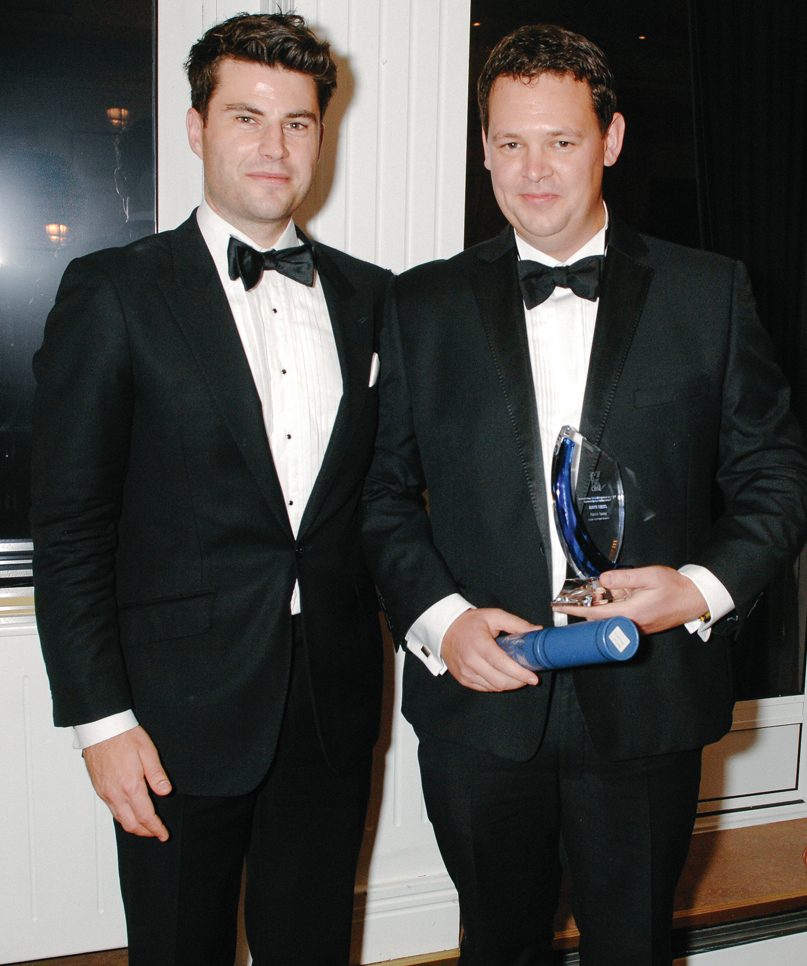 Andy Cook (left), of Hays Building Services, with Patrick Tanner
Brundrett gained an international reputation for his contribution to the understanding of the control of Legionella, for which he received a CIBSE Bronze Medal in 1992. He was also heavily involved in several CIBSE guides and sat on the editorial committee for BSER&T.
Since retiring as head of the environment and buildings division at the Electricity Council research centre, he has been senior fellow at the University of Wales and visiting professor at the University of Liverpool. He was elected to represent engineers on the Council of the Royal Society for the Promotion of Health, of which he was subsequently chair.
Three silver medals were also presented on the night – in recognition of outstanding service to CIBSE – to Paul Ruffles, Stuart MacPherson and Colin Wilson.
The annual awards dinner recognises and rewards industry talent, with accolades that showcase newly qualified and experienced engineers.
Other awards presented include:
Hays Building Services President's Prize
Lee Hargreaves, of the Happold Foundation, with Kim Howes, of MidKent College
Patrick Tanner, of London South Bank University, won the CIBSE Undergraduate Award – and a prize of £500 – for his final-year project, 'Investigation into potential CO₂ and energy savings due to specification of electrical cabling based on energy efficiency criteria'.
The award, sponsored by Hays Building Services, has been in existence for more than 20 years and is designed to encourage students to develop their potential and aim for excellence. It is targeted at those in their final year of a building services course, accredited by CIBSE, and recognises their academic achievements.
A trophy was also awarded to London South Bank University in acknowledgement of its achievements.
Happold Brilliant Award
This accolade recognises excellence in the teaching of building services engineering, and was this year presented to MidKent College. Lee Hargreaves, associate at the Happold Foundation, presented the award to Kim Howes, who accepted the award on behalf of the college.