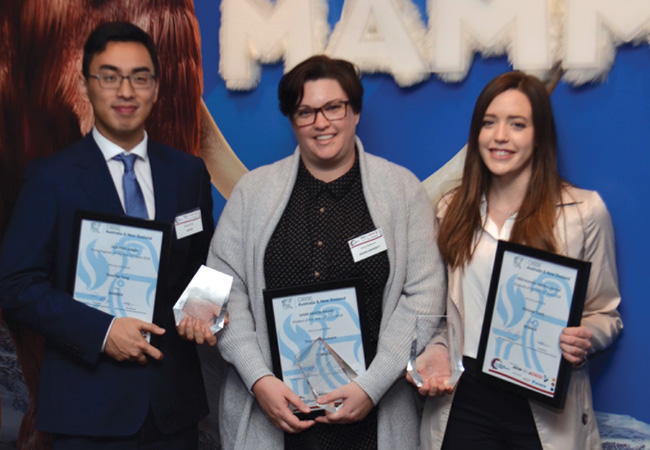 From left: Baoying Tong, Aecom Sydney; Sharyn Blakemore, Deakin University Melbourne; and Melanie Finch, NDY Sydney
Three young engineers have been recognised at this year's Australia and New Zealand Young Engineers Awards, held at the Australian Museum in June. The winners were among nine finalists whittled down from a record number of entrants from across the ANZ region.
Now in its second year, the awards encompass the Student, Graduate and Young Engineer of the year categories. Nominations were received from 13 first- and second-tier engineering consultancies, plus five universities.
Sharyn Blakemore, Bachelor of design architecture at Deakin University, Melbourne, won the Mark Griffin – Student of the Year award for her video addressing why she considers building services engineering to be an art form. Melanie Finch, project engineer at Norman Disney & Young Sydney, took the CIBSE ANZ Graduate of the Year award with a video that outlined where she feels building services is heading and why she wants to be part of it. Finally, the Jack Pirie – Young Engineer of the Year award was won by Baoying Tong, graduate engineer at Aecom Sydney. His video outlined his vision for the future of buildings and cities.
Each received a trophy, certificate and a $1,000 cheque courtesy of sponsors Aecom, Northrop and Umow Lai.