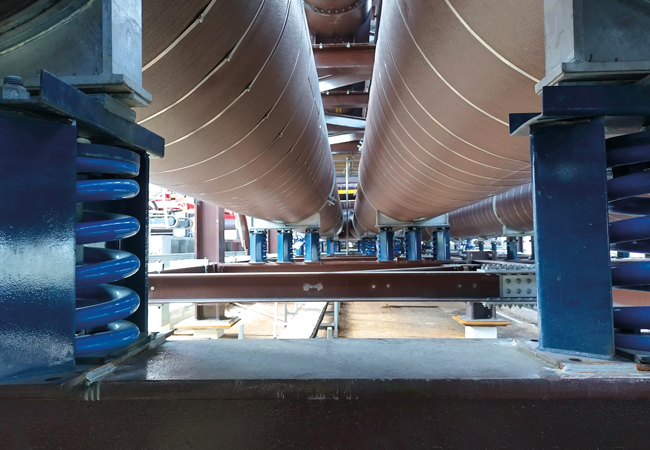 Service isolation depicted above must allow for thermal movement and structural response CIBSE Nov
A staggering 450,000 complaints were made to councils across the UK in 20221 because of noise-related disturbances in residential and other settings – an increase of 155.5% from 2020. 
Unlike our vision, which operates in a limited range, our hearing covers a broader spectrum of 10-octave bands, making us more vulnerable to unwanted noise. 
With our brain's auditory responses effectively never switching off, it can become almost impossible for us to adapt to the hum of building services equipment, a noisy workplace, or the rumble of a passing freight train, for example.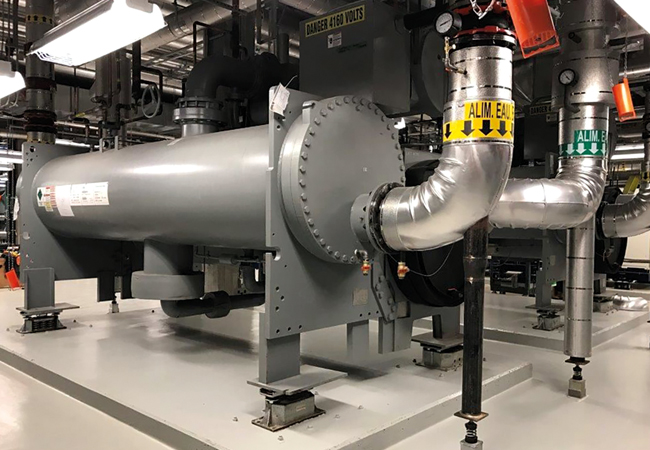 Isolators reduce noise and vibration if correctly selected
Despite the glaring impacts of neglecting acoustic considerations in building design, noise and vibration control within the built environment are still all-too-commonly an afterthought. One example is the installation of large heat pumps for heat networks or individual buildings, often replacing existing gas-fired boilers or CHPs (see panel, on page 48). If noise and vibration is not controlled in these installations, there is a danger that areas close to the plantroom could become unusable because of the disturbance to occupants.
CIBSE's Guide B4, published in 2016, provides an in-depth guide to noise and vibration control for building services systems. It includes information and best practice solutions for noise and vibration control (bit.ly/CJB42016), and complements other guides in the series (B0 to B3) that cover heating, ventilation and ductwork, air conditioning, and refrigeration. The B4 Guide also aims to counter external sources of noise. 
Consequences of excess noise and vibration
A lack of sufficient noise control of building services equipment can lead to disturbance to building occupants and neighbouring properties, and a lack of compliance with planning requirements – leading to health issues, work disturbance, complaints and, ultimately, enforcement actions against the project.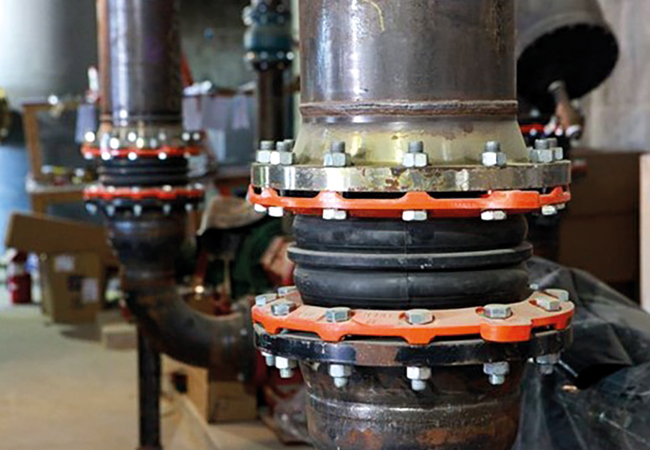 Expansion joints depicted above allow movement and reduce risk of pipes resonating, leading to noise and future failure
Limited vibration control can result in excessive levels of vibration being transferred into a building structure, which is a major issue for sensitive manufacturing and scientific facilities. In extreme cases, this could be felt as tactile vibration, but, more commonly, the issue materialises as regenerated noise. Introducing noise and vibration control retrospectively is more difficult and expensive than incorporating it in the initial design.
To ensure that system designs are not blighted by noise or vibration, early engagement with acoustic consultancy following Guide B4's robust guidelines is recommended. It will help designers reduce costs by avoiding common pitfalls and mistakes that may result in expensive rectifications, and reduce future upgrades or repairs necessary to combat noise and vibration problems for the end user.

Introducing noise and vibration control retrospectively is more difficult and expensive than incorporating it in the initial design
The emergence of multifunctional spaces and the need to decarbonise are creating more complexity in buildings, making an integrated approach to noise and vibration increasingly important. 
There is a growing trend for structures to become more lightweight to reduce carbon and limit the cost of materials. The downside is that lightweight structures carry noise and vibration more effectively, increasing the need for considered acoustics, noise and vibration control. 
From the incorporation of office spaces and gym facilities to cinemas and restaurants, multifunctional spaces in residential and commercial developments are becoming ever more complex. Catering to the various needs of the end user requires careful acoustic planning in the early stages, to ensure optimal sound quality and minimal disturbances between distinct functions and building services.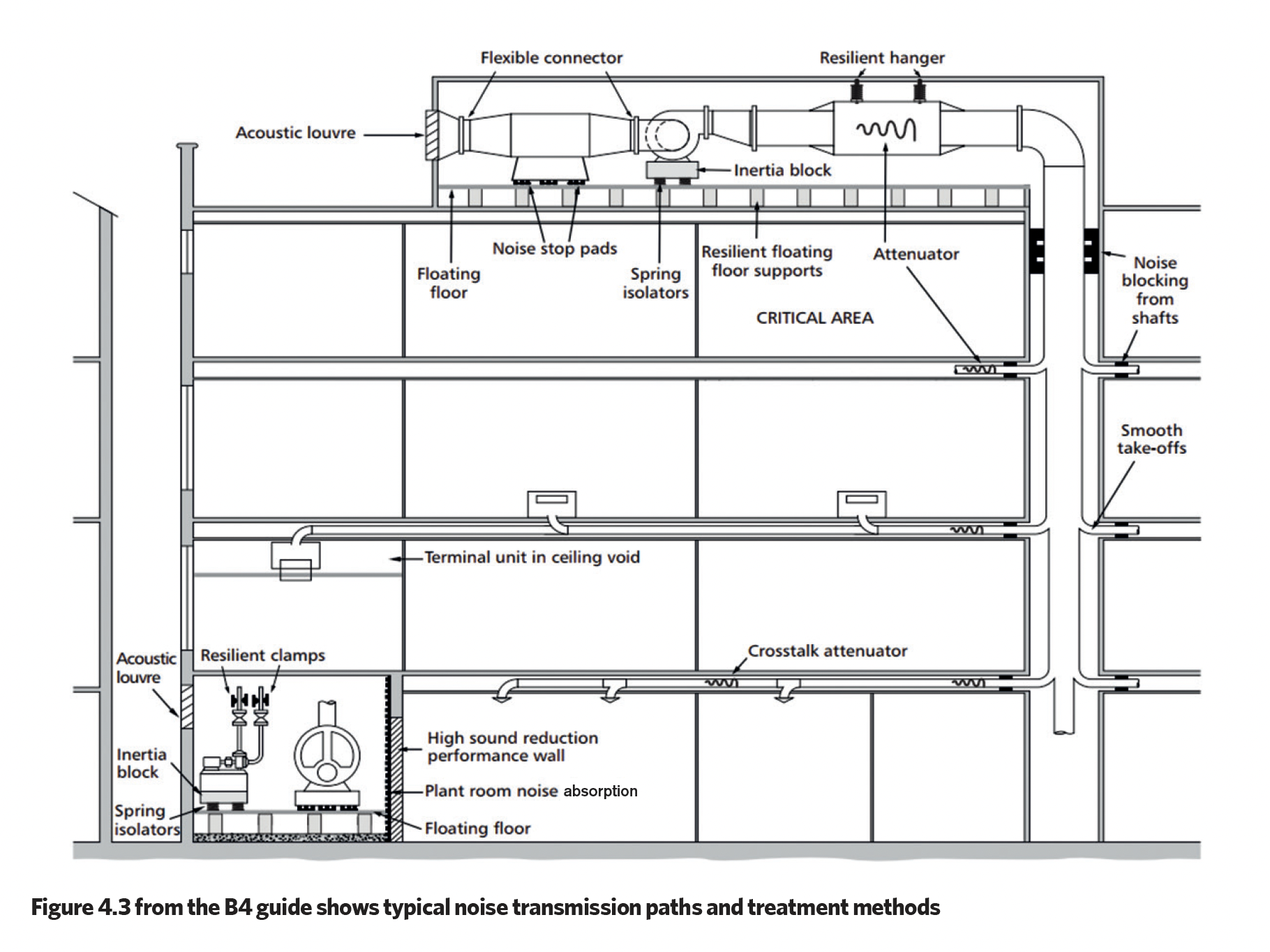 The increased focus on health and wellbeing in buildings is another reason noise and vibration should be considered at an early stage, alongside other environmental factors such as indoor air quality and temperature control. A good acoustic strategy will contribute to a better quality of life for the end users.
Acoustic consultancy is a unique, yet vital, part of the design process. Understanding how building materials and services equipment interact with each other and the surrounding environment is vital to the successful and sustainable functioning of the building. Early engagement with noise and vibration strategies using CIBSE's B4 Guide will create better holistic building designs. 
The consequences of neglecting acoustics
The neglect of acoustic considerations in building design can have severe consequences for building occupants. In one recent project, an appointed MEP contractor failed to recognise the need for any acoustic components within a building's plantroom. It is unclear whether the contractor chose to omit acoustic measures despite the existence of an acoustic report, or whether a report was done at all because of a disregard or lack of knowledge of the indispensable CIBSE Guide B4. 
Adding to the complexity, the heat pump supplier provided no guidance or ongoing support regarding potential noise and vibration, making the issue more difficult to rectify. The setting now finds itself unable to fully use vital spaces due to excessive noise and vibration. The quest to accommodate anti-vibration (AV) components, and the additional costs associated with retrofitting the heat pumps, only exacerbate the problem. 
If AV mounts are not designed in at the start, then often the equipment is simply sitting on the floor or bolted straight to ceilings or walls. The project serves as a reminder of the issues that can result from not addressing acoustics in design. It spotlights the importance of educating peers on best-practice acoustic considerations and solutions to build a holistic approach to building design.
Kyriakos Papanagiotou is founder and director of KP Acoustics Group, and Adam Fox is director at Mason UK
CIBSE Guide B4 is available on the Knowledge Portal www.cibse.org/knowledge
References:
1 Noise complaint research, Churchill Insurance, 2022 bit.ly/3Qoh1Em