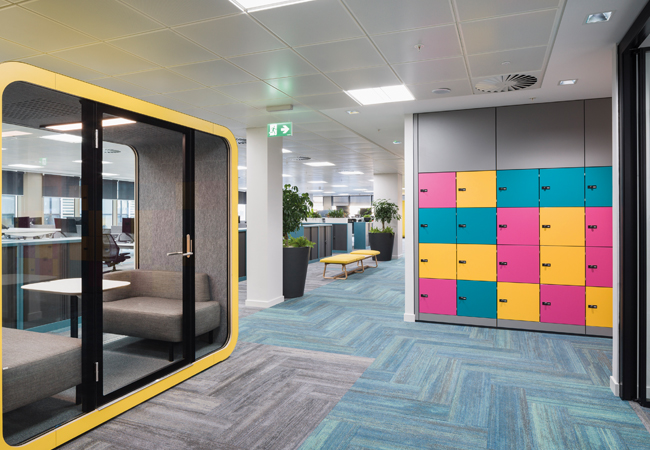 Post pandemic, multinational professional services firm Pinsent Masons wanted its new 2,300m2 Edinburgh office to encourage its employees to return to the office. The business was planning to relocate from its existing premises to the newly developed Capital Square, so it took advantage of the move to create a new flexible office environment to support hybrid, agile working and to promote staff wellbeing.
Designed and Well certified by engineers Cundall, working with architects Form Design, the firm's new office has less focus on formal workstations and more spaces to encourage social interaction, collaboration and meetings, including a café and social hub designed for multifunctional use. 
To accommodate people's different working styles and needs, the new office also includes small meeting rooms and even individual work pods to enable more focused work.
According to Luke Richards, Pinsent Masons' head of facilities UK&I, the decision to target Well certification for this office was made pre-pandemic in late 2018. 'Our approach to workplace design was always people-centric; this was an opportunity to see how we could up the ante and deliver a workplace that enhances wellbeing and productivity,' he says.
The decision proved to be long-sighted. 'Although it was important at the beginning for us to deliver a workplace with a true focus on health and wellness, it became even more vital for the post-pandemic world,' he adds.
Home to 200-plus lawyers and operations staff, the new offices are located over two floors of the Capital Square building in the centre of Edinburgh. Recently constructed, the building had a shell and core fit-out achieving BREEAM Excellent
and an 'A' rating EPC.
'The good thing about this building was that it was brand new, completed in May 2020, and it was built to a high standard so it already had a lot of amenities that align with Well criteria – for example cycle racks and good-quality glazing to allow daylight onto the floor plates,' says Kavita Kumari, associate director at Cundall and a Well Accredited Professional. She says Well Gold was a 'pragmatic' target for the fit-out. 
Cundall was appointed to the project as MEP engineers with responsibility for Well certification at RIBA Stage 2, before detailed design had started. The architect had established the interior layout so Cundall worked with the project team to implement Well criteria. 'We sat down with the design team and we went through what they can expect from a Well-certified building,' explains Kumari.
Cundall then followed this up with a series of individual workshops with each member of the design team, including Pinsent Masons' HR team, to talk about putting greater focus on healthy nutrition and making organic and sustainable products available in the office cafe and introducing yoga classes, for example. 
A biophilic approach to office design was used with natural and sustainable materials employed in the fit-out wherever possible.
Fortunately for Cundall, design of the office ventilation system was simplified by the fresh air supply, which was already fitted with a MERV 13 filter. 'Because the building is new, the level of filtration on the landlord's supply was already to an acceptable standard for Well; all we did was advise the landlord of the maintenance strategy required under Well for filter cleaning/replacement,' explains Kumari.
The offices are full fresh air in line with the Well standard. However, because the quantity of filtered air coming from from the landlord supply was insufficient to meet the Well standard for the occupancy levels proposed, Kumari says Cundall added 'additional supply heat recovery units to supplement the fresh air loads'.
Fresh air is ducted to the different workspaces via VAV units; flowrates are demand-controlled using CO2 sensors in the return air ducts. Kumari describes it as 'a flexible strategy, with fresh air moved to where it is needed'.
In addition, a kitchen ventilation system was installed, consisting of a supply fan installed in the ceiling void on the third floor and an external, roof-mounted kitchen extract fan. The supply fan incorporates a G4 filter and ducted electric heater battery to condition the fresh air. Space heating and cooling is from a four-pipe fan coil system connected to the landlord supply.
Floor-to-ceiling glazing meant that many of the spaces could be naturally lit. 'We did have to put in blinds to give occupants at the perimeter of the floors the ability to control glare,' says Kumari.
Daylight is supplemented by an LED circadian lighting system. This is programmed to change colour throughout the day to work in harmony with the occupants' internal body clocks to amplify occupant comfort and productivity. It delivers a cooler bluer light during the day, transitioning to warmer colours in the morning and evenings. 'Lighting can be controlled from a colour temperature of 2700K to 6500K to enable it to transition from yellow to blue,' explains Kumari.
The office opened in January 2022 and, according to Pinsent Masons, the response from its employees to the Well Gold-certified space has been overwhelmingly positive. 'Importantly, feedback from our people has been amazing and we have seen a sustained positive uplift of around 10-15% in office occupancy, which we call "the Well effect",' enthuses Pinsent Masons' Richards. 'It's very likely that we will go for Well Certification with our other UK offices that we're looking to relocate to in the next few years,' he adds.
Kumari expects many more employers to follow Pinsent Masons' example. She says that Well appears to be becoming the default standard for office ventilation post pandemic. 'Since the pandemic, occupiers and developers have been trying to create spaces that are different and that give employees a sense of security so that they know it is clean and healthy so they want to come into the office'.